We've raised the bar for digital filmmakers with the DREAMGRIP™ EVOLUTION MOJO
With just a smartphone, you can tell your story in stunning quality
It's an exciting time to be a budding filmmaker — there's more demand for digital content than ever before. From teenagers, vloggers and musicians to journalists and directors, everyone's creating video and photography using just their smartphones. It's fun, quick and easy. However, the quality of production is often mixed.
That's where DREAMGRIP comes in: We've created an all-in-one universal smartphone rig with everything you need to create professional quality films. Whoever you are and whatever your level of experience, the DREAMGRIP™ EVOLUTION MOJO lets you tell your story using superb visuals, sound and lighting.
Capture your world with

DREAMGRIP™ EVOLUTION MOJO
For visionaries, dreamers and all-round creators, the DREAMGRIP™ EVOLUTION MOJO is the most fully equipped filming setup we have available. Let's go on a tour of our flagship product.
First, there's the amazing build quality: Our universal smartphone rig is composed of high-grade aluminum 37-52 mm hood, optics adaptor, lens cup and cold shoe tracks as well as stainless steel alignment bars. Indoor or outdoor, the DREAMGRIP™ EVOLUTION MOJO won't let you down.
Along with the sturdy construction, you'll also love its elegant minimalist design. The ergonomic molded handgrips and shoulder straps give you maximum maneuverability.
Even better, the DREAMGRIP™ EVOLUTION MOJO features small, lightweight and compact construction. That makes it the perfect travelling companion, whether you're filming in your home or in the street. In just minutes, you'll be able to take it apart and reassemble in all filming conditions.
We want to unleash your creative potential — you should be free to design your setup to suit your filming needs. That's why the DREAMGRIP™ EVOLUTION MOJO is compatible with ANY smartphone model and any combination of external lights, microphones, monitors, power banks, lenses, hoods and more. In action, the rig can be handheld, mounted on tripods or dollies or attached via suction cups.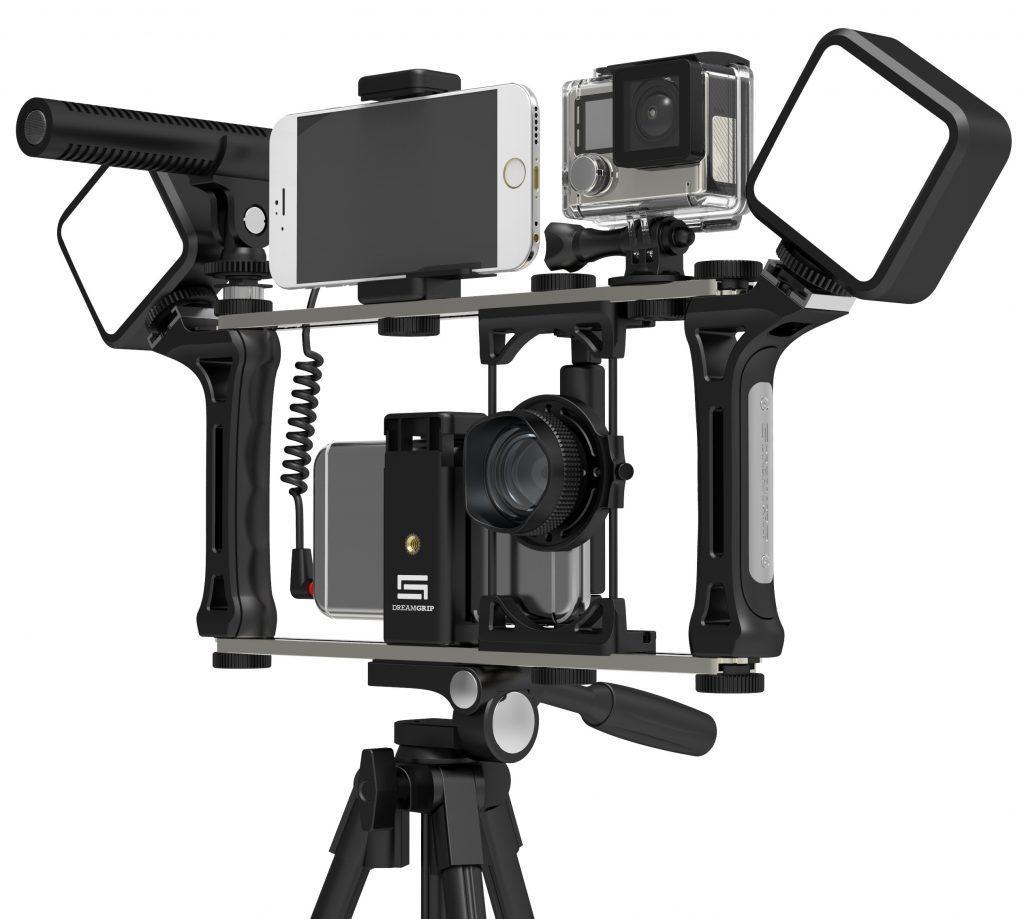 Our star players: Here is what makes the DREAMGRIP™ EVOLUTION MOJO our favorite product line. Along with the basic universal rig, it also comes with an additional:
Two 36 LED lights with USB charging cables
Gun microphone with standard 3.5 mm jack, foam windshield and cold shoe snap mount
Extra clamp holder with one more quarter-inch tightening bolt
What's it like in action? It's fast, simple and seamless. Just insert your smartphone, DSLR or action camera into the holder and use the two stainless steel precision bars to align its position to the optics cup. Fix your external lights, microphone and any other accessories onto the cold shoe tracks. Now you're ready to film your masterpiece.
Whether you're broadcasting from your home studio, posting on social media or producing a feature-length film, the DREAMGRIP™ EVOLUTION MOJO has you covered. With the perfect setup, you'll take your filmmaking to the next level.
Stay tuned for more sets, accessories and add-ons.
We have exciting plans for our DREAMGRIP product lineup. Join our community of Dreamers!